6 Ways to Increase Your Home's Sale Value
You're putting your home on the market, but before you do, you want to make sure you're doing everything you can to get your asking price--and possibly more. Here are 6 ways you can increase the value of your home to get the biggest bang for your buck.
1. Inspect Your Home
Before listing your home for sale, start off by getting a home inspection. You may be thinking, "The last thing I want to do is spend money to have someone tell me all the things I need to fix." However, a pre-listing inspection can actually save you money. If major issues surface in the buyer's inspection report, they will most likely try to negotiate a lower price for your home. Inspecting your home can also bring some much-needed renovations to light that could help you increase the value of your home.
2. Modernize Your Kitchen
A survey of millennials conducted by Consumer Reports found that an updated and modern kitchen is top of the list of ideal home features. A kitchen is not only the heart of the home, but it is also significant in increasing your home's resale value. This doesn't mean you absolutely need to tear your kitchen apart and start from scratch. Small fixes may include new appliances, changing your countertop, and adding in new flooring. Instead of replacing your cabinets, you can opt for repainting them to help give your kitchen a fresh, modern appeal. You don't have to go all out to get a good return on your investment.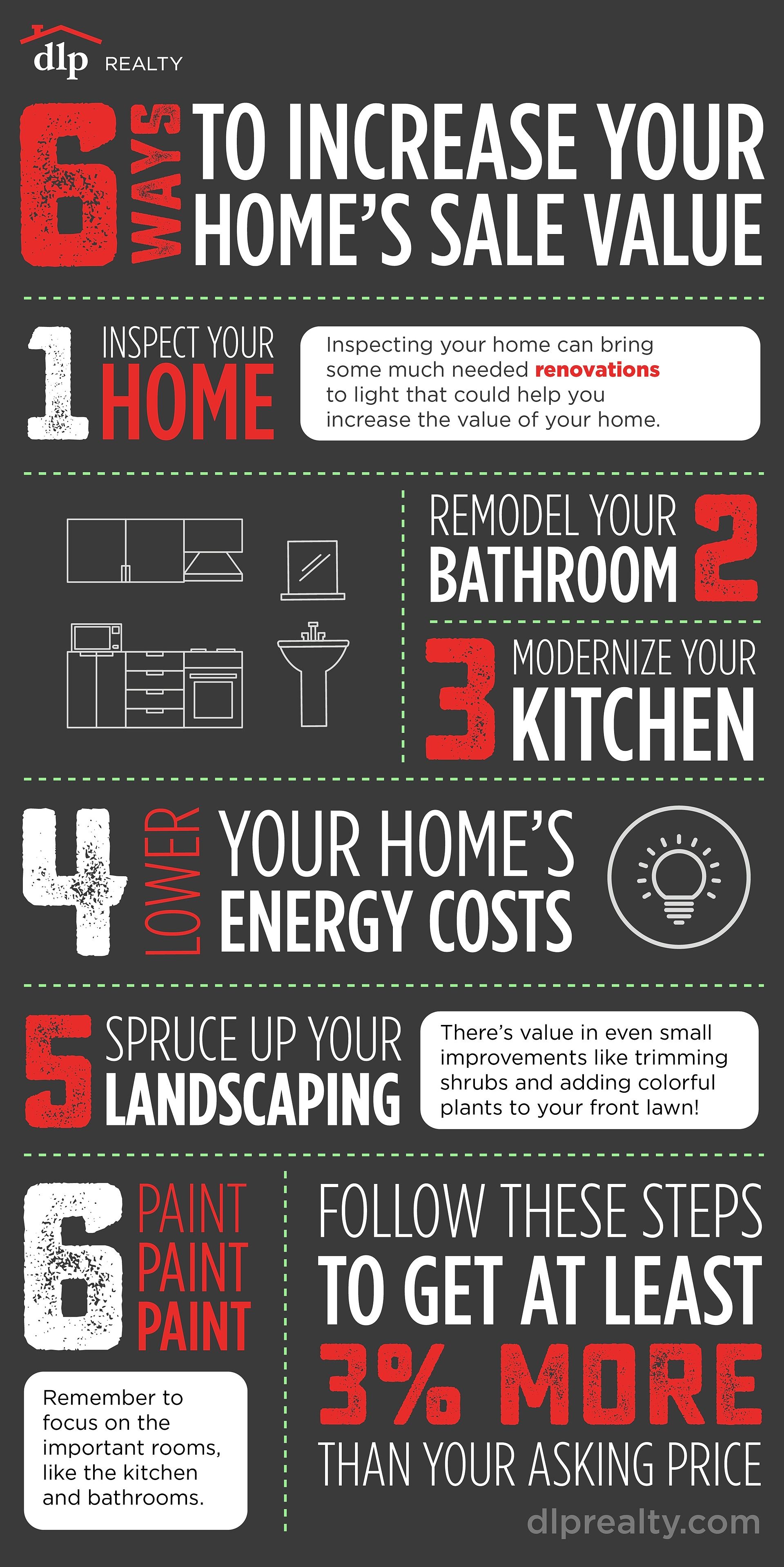 3. Remodel Your Bathroom
Bathroom renovations come in second place to kitchen renovations as a key selling point in most homes. Re-grouting tiles, replacing mirrors, and replacing the toilet can go a long way.
4. Lower Your Home's Energy Costs
Lowering your energy costs can not only save you money while you're currently living in your home, but it can also be a huge selling point for your potential buyer. Lowering energy costs can even provide a larger return on your investment. For example, a survey conducted by Remodeling.com found that homeowners can recover 116% of the costs of attic insulation. As a homeowner, you may understand the frustrations of dealing with hefty energy costs, so you'd want your buyer to know your home will not be an energy parasite.
5. Spruce Up Your Landscaping
When it comes to your home, many potential buyers will judge a book by its cover. The exterior features of your home are what your buyer sees first (typically even in the listing photos). There's value in even small improvements like trimming shrubs and adding colorful plants to your front lawn. You can get more than a 100% return on your investment for what you've spent to help you attract more buyers.
6. Paint, Paint, Paint
One of the most affordable ways you can increase your home's value is to add a fresh coat of paint to your home's interior. Not only does it refresh your home, but paint can also help soothe any minor visible defects. You can hire a professional to do the job, or save some money and tackle it yourself. Remember to focus on the important rooms, like the kitchen and bathrooms.
Selling Your Home?
Get your home's value - our custom reports include accurate and up to date information.
Get Home Value